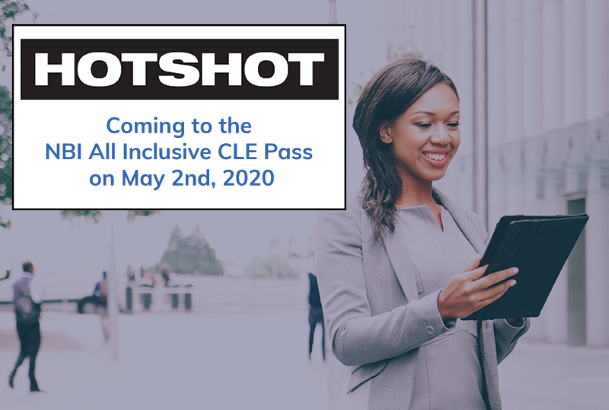 By: The NBI Team
Thursday, April 30, 2020
Introducing Hotshot to the NBI All Inclusive CLE Pass
There's a bevy of literature on the pros, cons and ideal use of macro and micro learning, but the long and short of it is, sometimes you just need a 10-minute rundown on an immediate problem you're facing; e.g., what are the key components of an indemnification provision and what do they do?
Enter Hotshot: Micro, Just-In-Time Learning
While microlearning has quickly emerged as a core training method in other industries, the legal profession has yet to catch on. We think it's time that lawyers had the ability to get answers whenever and wherever they need them, without committing the time required to take a comprehensive CLE course.
On May 2nd, 2020, NBI will be providing
all NBI All Inclusive CLE passholders
with full access to Hotshot's OnDemand microlearning library of
over 150 courses broken down into 600+ training videos
covering key issues in:
Accounting & Finance
Civil Litigation Basics
Commercial Provisions
Excel & Data Analysis
M&A Basics
Securities Offerings
Venture Financing
The Fine Print
Actually, there is no fine print. You get the full catalog if you're an All Inclusive CLE passholder – but, you will need to see these videos for yourself to fully experience how impressive the quality is.
They look great on any device.
You can stream them anywhere you have internet.
Interactive quizzes and rich visuals help ensure your acumen.
How to Access Hotshot
Click on "Hotshot" in the left navigation menu.
If You Don't Have an All Inclusive CLE Pass
Simply click here to sign up today!
Not only will you get access to Hotshot immediately, but you'll also get unlimited access to our full array of live and OnDemand CLE courses and access to our forms library which includes over 10,000 forms per state.
Check out the videos and stay tuned – this is the first in a series of exciting changes NBI has in store for 2020.