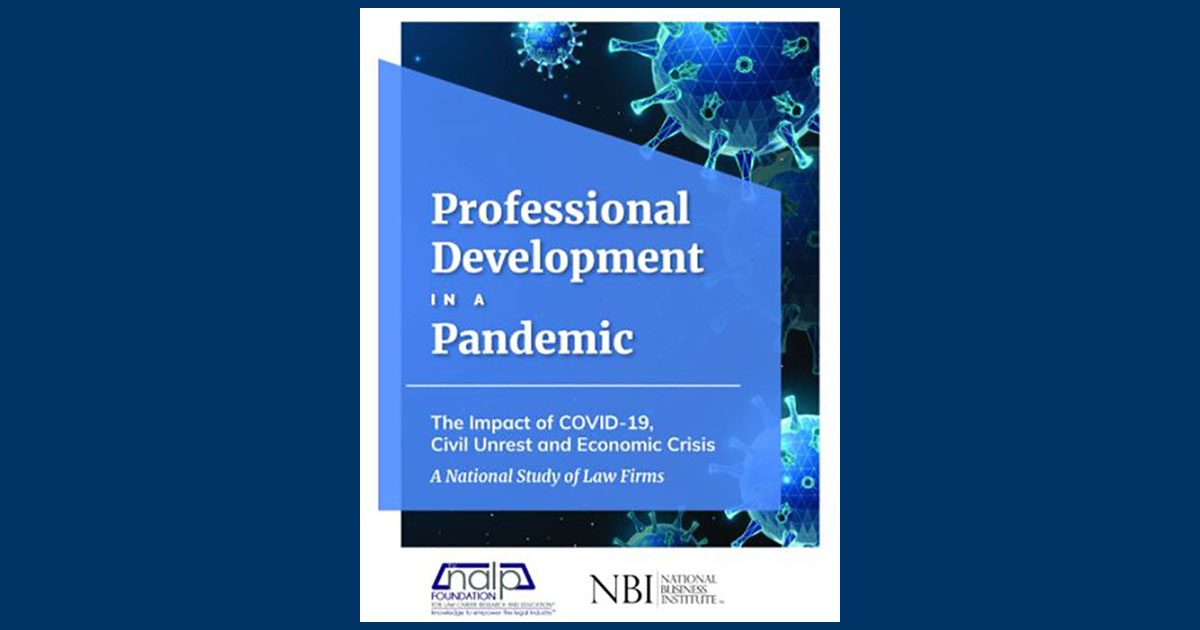 By: The NBI Team
Thursday, March 4, 2021
NALP Foundation & NBI Study: Q&A with Fiona Trevelyan Hornblower, President & CEO of NALP Foundation
For U.S. law firms, the effects of COVID-19 impacted much more than
staffing, operations, and technology investment
. In partnership with the NALP Foundation, NBI released a joint study in March 2021,
Professional Development in a Pandemic
, which provides an in-depth look at how the pandemic, in addition to civil unrest and the 2020 economic downturn, affected professional development (PD) and diversity, equity, and inclusion efforts (DEI) at 86 leading law firms. Among the key findings:
Nearly three-fourths (73%) of firms implemented new programs to specifically address racial injustice and civil unrest.
43% of firms reported they redeployed staff or attorneys to work on DEI efforts and initiatives.
The majority of firms (71%) reported the pandemic, civil unrest, and economic downturn did not impact their work allocation processes.
Nearly half (48%) altered the content or format of associate performance evaluations, primarily as a result of COVID-19.
Firms cited mental health and well-being (54%), and relationship development and maintenance between partners and junior associates (52%) as top challenges.
To get a better understanding of how law firms are pivoting, we talked with NALP Foundation President and CEO Fiona Trevelyan Hornblower about key findings, takeaways, and what to expect next.
Thanks for speaking with us, Fiona! What was the inspiration for this study? Was there something specific you were looking to find in the data?
As the pandemic progressed, we heard from firms about adaptations to their PD and DEI programming so we wanted to probe what those were, how successful they were, and what firms might be planning for the future. We also wanted to see whether there were differences in how the three factors we looked at – COVID-19, civil unrest, and the economic downturn – affected firms' PD and DEI efforts. Finally, we wanted to investigate whether there would be variances based on firm size or geographic location.
Did you begin the project with any preconceived notions? Did the data support those ideas or debunk them?
We anticipated we would find – as we did – that the majority of firms quickly moved from in person to virtual programming as the pandemic hit; we were curious about which content would prove most amenable to this new format, and found that content was not actually the prime driver of a successful virtual program, but rather ensuring participants' engagement through breakout rooms, cameras on, and a participatory program format was.
What results surprised you the most?
How flexible and creative a profession historically seen as hesitant to innovate could be, when it needed to be! We were also struck by some of the significant divergences in the data when we analyzed it by firm size and geographic location. Finally, firms almost universally reported that the cohort with which they are experiencing the most challenges are junior associates.
What do you hope some outcomes from the study will be? What takeaways would you hope to see law firms implement?
We were intrigued that several firms reported they will be assessing their performance evaluations content and processes for implicit bias; it would be great to see that become a widespread inquiry with specific improvements implemented as a result. We're also interested to see how firms develop programs to support parents and diverse attorneys, two cohorts many reported they will be focusing on.
What was your top "aha moment"?
As our Advisory Group of leaders in the PD and DEI fields worked on the project's topics, realizing we needed to look not just at the pandemic, but also at the impact of racial injustice and civil unrest, as well as the economic downturn, to try to tease out the differentiated and collective impact of these on firms' PD and DEI efforts.
Are there any best practices or potential implementations from the study that you feel are relevant to small and mid-sized firms? How about corporate legal departments?
You can do more on both professional development and DEI with current resources – while it is tempting to think more human and financial resources are the only answer, and that in the absence of increases in those, more can't be done, that is not necessarily the case. Pivoting current staff to support these efforts, and engaging with the external community are both effective magnifiers. We think the findings from this study are relevant to all sorts of organizations, large and small, including those outside the legal profession.
Are there any topics you hope to dive deeper into? What are next steps?
Once we're through the pandemic, it will be fascinating to look at what firms actually do – how much of the virtual programming they now plan to extend they actually continue, and whether they innovate to develop new virtual programs and delivery mechanisms. With over half of the participating firms identifying employees' mental health as one of their top challenges, it will be important to see whether they've been able to achieve tangible progress on this front.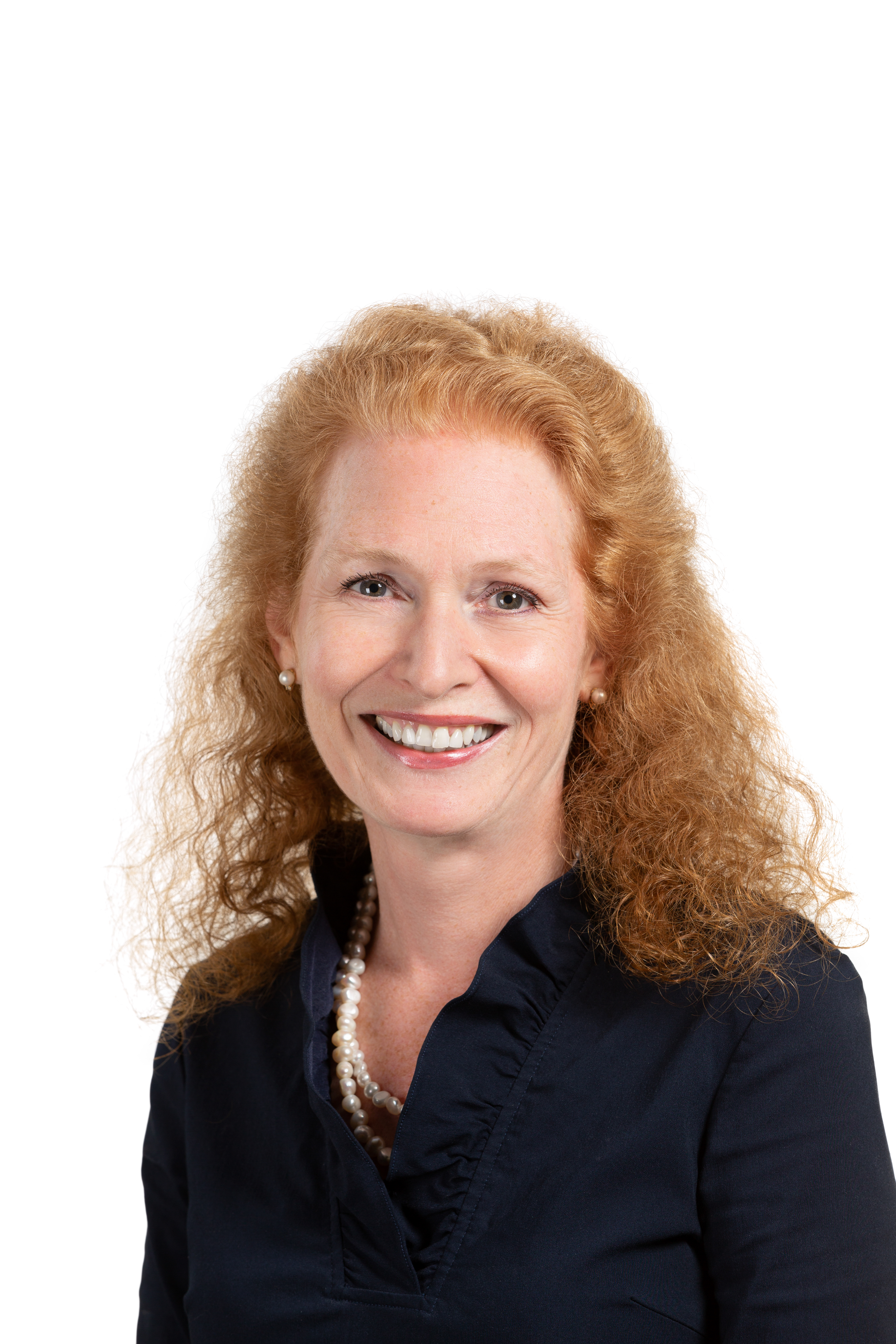 Fiona Trevelyan Hornblower is the President and CEO of the NALP Foundation for Law Career Research and Education. Ms. Hornblower provides leadership for the Foundation's mission to improve the quality and delivery of legal services through research, education, and the expansion of diversity within the legal profession. Ms. Hornblower can be reached at
fhornblower@nalpfoundation.org
.
--
This blog post is for general informative purposes only and should not be construed as legal advice or a solicitation to provide legal services. You should consult with an attorney before you rely on this information. While we attempted to ensure accuracy, completeness and timeliness, we assume no responsibility for this post's accuracy, completeness or timeliness.