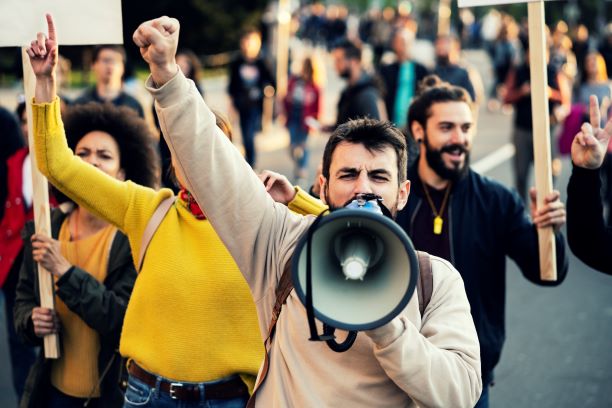 By: The NBI Team
Tuesday, July 14, 2020
What Every Lawyer Should Know About Civil Disobedience
The United States is facing significant civil unrest. For many, now is the ideal time to take on systemic problems through free speech, engagement, and even civil disobedience.
Civil disobedience can have an incredible impact, but it is not without potential consequences. There are legal pitfalls – not only for individuals considering civil disobedience but for attorneys that advise them as well.
Attorneys need to provide their clients with sound legal advice while upholding their ethical obligation not to assist in breaking the law. The following tips can assist attorneys in helping their clients understand their constitutional rights without violating ethical obligations.
Advise, Don't Plan
The role of an attorney is to advise and provide their clients with a legal context. Serving in that capacity, even for clients who are considering civil disobedience or First Amendment demonstrations, is well within the bounds of the code of ethics. The problem can arise when attorneys go beyond advising their clients of their rights and responsibilities and instead actively assist with lawbreaking. .
The American Bar Association Rules of Professional Conduct are clear on this issue. According to
Rule 1.2
, a lawyer must not "counsel a client to engage, or assist a client, in conduct that the lawyer knows is criminal or fraudulent." However, Rule 1.2 does allow lawyers to discuss the legal consequences of a proposed course of conduct with their clients. Furthermore, lawyers may also make a good faith effort to help a client understand the validity, scope, meaning, and application of a law. .
The rule does not allow an attorney to actively plan or participate in civil disobedience. It does, however, allow a lawyer to give an honest opinion about the likely consequences of their client's actions. This remains true even if the client relies on this guidance when ultimately deciding to commit a criminal act.
Discuss Consequences
The most important aspect of advising a client on potential civil disobedience is ensuring they understand the legal ramifications of their actions. Attorneys that fail to appropriately advise their clients on the potential legal consequences of their actions could violate the rules of ethics. .
This discussion begins with the prospect of arrest, conviction, and incarceration. Attorneys have the obligation to rely on their knowledge of the law and their experience in a particular jurisdiction to advise their clients on what to expect. If a client duly understands their civil disobedience could result in jail time and steep fines, the decision is ultimately in their hands. .
This discussion should go beyond the potential for statutory penalties, however. It is also necessary to advise a client on the potential collateral consequences an arrest can bring. Felony charges carry an array of collateral consequences, including the loss of voting rights, difficultly obtaining employment, and the inability to own a firearm. In some cases, even misdemeanor convictions can alter a person's life forever. In particular, these arrests can have a detrimental effect on the immigration process.
Understanding Protest Law
Preparation in these cases is vital. When a lawyer goes into these cases understanding the laws surrounding protests, they are more likely to give their client strong advice. In fact, a thorough understanding of public protest law is valuable not only for a protestor's legal counsel but the lawyers for local municipalities as well. First Amendment rights, unlawful assembly rules, and the validity of requirements for permits are just a few of the things you will need to know.
Explore NBI's courses
for a range of courses that can help attorneys advise their clients in these tumultuous times.
Managing Client Expectations
Dealing with a client that was arrested for civil disobedience can be unlike most criminal cases. Because of this, an attorney must appreciate their client's motivations. Unlike many criminal cases, these clients may care little about the adjudication of guilt or innocence. For some, having the opportunity to be heard in a court of law is the ultimate goal. Before taking on any type of case, an attorney should understand their client's motivations so that they can be prepared for what is to come. If the publicity of a trial is the client's end goal, a focus on plea bargaining might be fruitless. Understanding these motivations can help an attorney do their best for their client. .
These are only a few of the most important considerations when taking on a civil disobedience case.
--
This blog post is for general informative purposes only and should not be construed as legal advice or a solicitation to provide legal services. You should consult with an attorney before you rely on this information. While we attempted to ensure accuracy, completeness and timeliness, we assume no responsibility for this post's accuracy, completeness or timeliness.