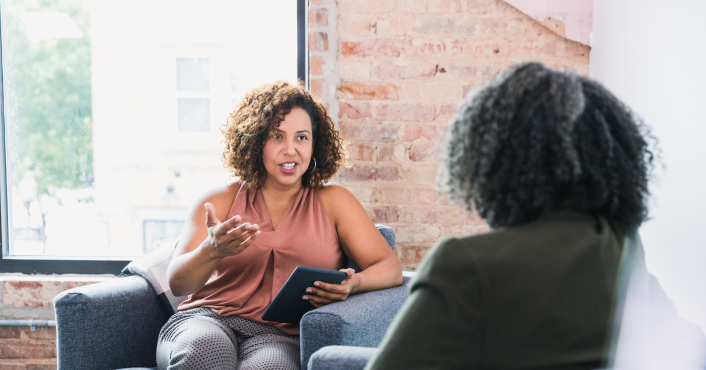 By: The NBI Team
Monday, January 16, 2023
What You Need to Know About Lawyer Assistance Programs
Like many layers, Sarah couldn't detach herself from her work.
Her firm introduced a work-from-home policy during the pandemic. This policy was a boon for productivity, and it soon became permanent. Since attorneys were mostly meeting with clients via Zoom, they could just as easily do that from home as from the office.
The increased productivity came at a cost to Sarah, however. The rituals of her commute and leaving the office for lunch provided her with much-needed pauses in her day that allowed her to mentally regroup. Sarah had always been a hard worker, but she failed to replace these pauses with other stress-reducing rituals when she started working from home.
The time Sarah normally used for her commute was now devoted to reviewing client files. Lunch places were too far away, so she started working through lunch, and grabbing a quick bite from her kitchen instead. The stress started piling up. In addition to work, the pressure of being the best parent possible also added to her stress, especially with her kids learning from home several days a week.
Sarah soon turned to a glass of wine in the evening to deal with the stress. Before long, this turned into two glasses per night, then a bottle. Her work began to slip, and clients started to complain. She soon had a meeting with the firm's managing partner, who told her to get her act together. Fortunately for Sarah, she had learned about her state's lawyer assistance program at a recent seminar. She decided it was time to give them a call.
Why Lawyer Assistance Programs Are Needed
Stress and anxiety are killers. The pandemic, inflation and everything else have only exacerbated them over the past few years. If you add the stress that comes with practicing law on top of those things, the problem only gets worse. 67% of female attorneys, and 49% of male attorneys report experiencing moderate or severe levels of stress.
With stress often comes hazardous coping behaviors such as drinking or substance abuse. Attorneys are twice as likely to engage in hazardous patterns of drinking compared to peers in other professions.
Though attitudes are changing, inability to cope with stress and hazardous patterns of substance abuse often engender feelings of shame in those who need help. All too many suffer in silence. Fortunately, lawyer assistance programs are available to provide anonymous assistance to attorneys who need it.
What is a Lawyer Assistance Program?
Lawyer assistance programs provide attorneys, judges and law students with confidential support if they are experiencing a mental health crisis or a substance abuse disorder. They can help with burnout, stress, depression, alcohol abuse, and drug dependency.
Lawyer assistance programs are confidential. They wouldn't be effective otherwise. Most states have rules that allow users of lawyer assistance programs to remain confidential, unless the attorney allows the program to release their information.
Lawyer assistance programs are typically staffed by teams of experts that are qualified to help legal professionals with mental health, addiction, and other concerns. The majority have both attorneys and individuals with clinical training on staff. Almost all also rely on volunteers to respond to hotline calls, or to act as peer counselors.
What Services do Lawyer Assistance Programs Provide?
The services offered by lawyer assistance programs vary, but they typically provide counseling, assessments and referrals. They can assist with a wide variety of issues that may prevent an attorney from practicing law, including addiction, depression, anxiety, eating disorders, cognitive decline and dementia, suicidal ideation, and other mental health concerns.
For lawyers who utilize their services, many lawyer assistance programs provide aid to minimize harm to clients if treatment is needed. This can range from obtaining continuances to finding alternate counsel for clients.
Lawyer assistance programs also perform education and outreach efforts for the legal community, including CLE programs. These outreach efforts are often at no cost to the organization requesting them.
Most lawyer assistance programs also provide guidance on dealing with an impaired attorney. Many individuals who suffer from addiction or have mental health concerns are not always the first to admit they need help. Lawyer assistance programs can provide guidance on interventions, treatment options and work-related issues to those who have a colleague who needs assistance.
ABA Commission on Lawyer Assistance Programs
The American Bar Association maintains its own Commission on Lawyer Assistance Programs. It supports the work of state and local lawyer assistance programs around the United States. It holds conferences, provides outreach and assistance to lawyer assistance programs and attorneys who need them, and conducts research.
Its page features several useful reports and tools on attorney mental health and substance abuse. It also provides a directory of lawyer assistance programs around the country, as well as a list of programs for specific mental health crises and substance abuse issues.
Effectiveness Of Lawyer Assistance Programs
Due to their confidential nature, lawyer assistance programs understandably do not share statistics on utilization of their services. Anecdotal information and testimonials speak to their effectiveness, however. Many attorneys who have utilized their services cite lawyer assistance programs as turning their lives around.
Some studies have shown that programs focused specifically on lawyers are more effective than programs aimed at the general public. For attorneys struggling with alcohol addiction, lawyer assistance programs are more likely to curtail drinking than other addiction counseling and support programs.
How to Find Lawyer Assistance Programs
The ABA Commission on Lawyer Assistance Programs maintains a comprehensive directory of lawyer assistance programs. This directory includes programs in US states, programs in US territories, and international programs.
Key Takeaways
Attorneys are experiencing heightened levels of stress that have been exacerbated by the pandemic and by other sources. They are more than twice as likely to engage in hazardous patterns of drinking as compared to peers in other professions. This points to the need for lawyer assistance programs.
Lawyer assistance programs are meant to help attorneys experiencing addiction, mental health crises, excessive stress, burnout, depression and a whole host of other issues. They can also provide guidance to those close to attorneys suffering from these issues.
Lawyer assistance programs are more effective at helping attorneys than similar programs aimed at the general public. They also typically provide assistance to minimize harm to clients if an attorney is impaired or needs treatment.
---
About NBI
We're National Business Institute, and our passion is Continuing Legal Education! We have been providing quality training to attorneys, accountants, HR professionals, teachers and others since 1983. In the transition to online training, NBI has remained an industry leader. We offer numerous online formats, as well as subscription options for individuals and for legal teams.
---
This blog post is for general informative purposes only and should not be construed as legal advice or a solicitation to provide legal services. You should consult with an attorney before you rely on this information. While we attempted to ensure accuracy, completeness and timeliness, we assume no responsibility for this post's accuracy, completeness or timeliness.